After enjoying a date night in October, 19-year-old Katie Robley and her 20-year-old boyfriend, Jay Waters, were driving home when Waters lost control of his vehicle.
It's unclear why or how Waters lost control of the vehicle, however, as a result, the black Ford Fiesta collided with a van traveling in the opposite direction, according to the BBC. Robley died as a result of her injuries hours after being taken to the hospital.
RELATED: Four Children Have Been Killed, Mom Left in Serious Condition, Following Thanksgiving Day Car Accident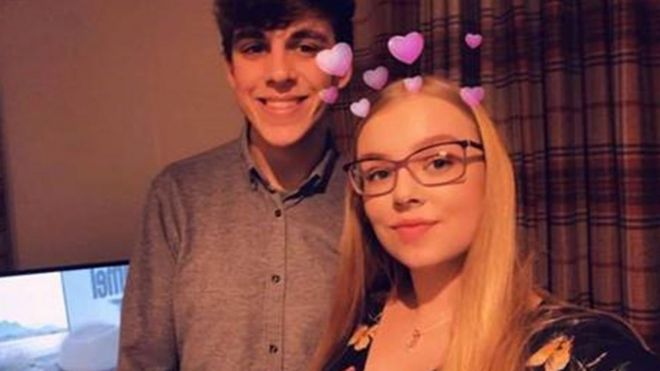 Waters was also severely injured and was diagnosed with severe head trauma. The driver of the van did not suffer serious injury.
Mom Diagnosed With Broken Heart Syndrome Weeks After Daughter Unexpected Passing
Then just weeks after Robley's unexpected death, her mother was rushed to the hospital after she went into cardiac arrest. According to Robley's brother, he was the one to call 911 after noticing their mother in distress.
Robley's 22-year-old brother, Brandon, told the Daily Mail that their mother, Rebecca Taylor, "was very pale and very tired and was taking a long time to do things and I had a gut feeling she was having a heart attack."
Brandon continued, "She did say she was having chest pains. She wouldn't let me call an ambulance at first because she is so stubborn but I called and they took her to hospital."
Doctors also diagnosed Taylor with "broken heart syndrome." According to the Cleveland Clinic, broken heart syndrome "is a group of symptoms similar to those of a heart attack, occurring in response to physical or emotional stress."
"Most people affected by broken heart syndrome think they are having a heart attack because symptoms, such as shortness of breath and chest pain, are similar in both conditions. However, those with broken heart syndrome do not have blocked coronary arteries, and usually make a fast and full recovery."
As the Cleveland Clinic reports, the "cause of broken heart syndrome is not fully understood." Thankfully, Taylor is on the mend and resting as she continues to get better.
Brandon described his younger sister as someone who cared greatly for others. He added that she will forever be remembered for her character and the constant kindness she showed people.
RELATED: Dad Says 'I'm So Thankful to God' After Infant Son Is Ejected From Car During Crash and Is Found on the Side of the Road Practically Unscathed
He also opened up about the day they learned Robley was killed. "A knock on the door came and I went down and answered it and it was [the] police.
"They told me to go get my mum and I did and I went back upstairs but I heard the word accident. I just ran downstairs burst into the room and said 'What's happened?' They told us to get to the hospital immediately. The last month and a half has just felt like one long day."
Robley was laid to rest on November 18.
About Mamas Uncut
Mamas Uncut is THE online place for moms. We cover the latest about motherhood, parenting, and entertainment as well – all with a mom-focused twist. So if you're looking for parenting advice from real parents, we have plenty of it, all for moms from moms, and also experts. Because, at the end of the day, our mission is focused solely on empowering moms and moms-to-be with the knowledge and answers they're looking for in one safe space.
-->