Toddlers are puzzling little people. One second they love a thing, like peas. The next, they passionately hate peas. You never know what you're going to get and that makes Christmas and giving a toddler gifts a challenge. On one has better-exemplified toddler fickleness than Jinger Duggar's daughter, Felicity.
For Christmas, the Counting On star, Jinger and her husband, Jeremy Vuolo, gifted their daughter a Belle doll. Instead of showing any interest in the doll, Felicity was instead obsessed with a bottle of perfume.
YOU MIGHT ALSO LIKE: Jinger Duggar, Now Blonde, Snaps at 'Counting On' Producer for Speculating That She's Pregnant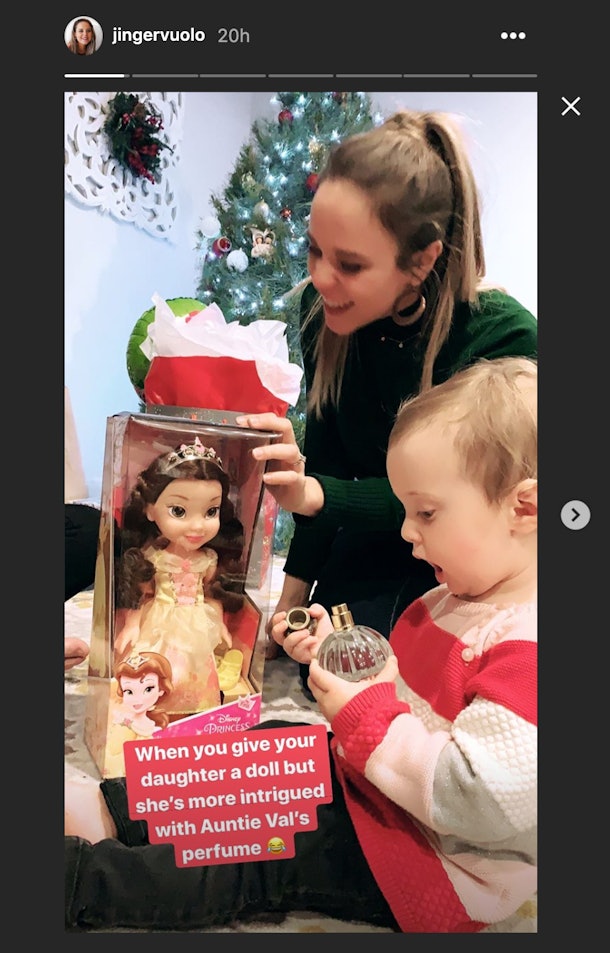 Jinger captioned the picture, "When you give your daughter a doll but she's more intrigued with Auntie Val's perfume." We've all been there as a parent, you spend time and money getting your toddler a gift only to have him or her more interested in the box the gift came in than the actual gift.
Jinger and her family spent Christmas with Jeremy's family and not the Duggars this year. Clearly, Felicity didn't mind.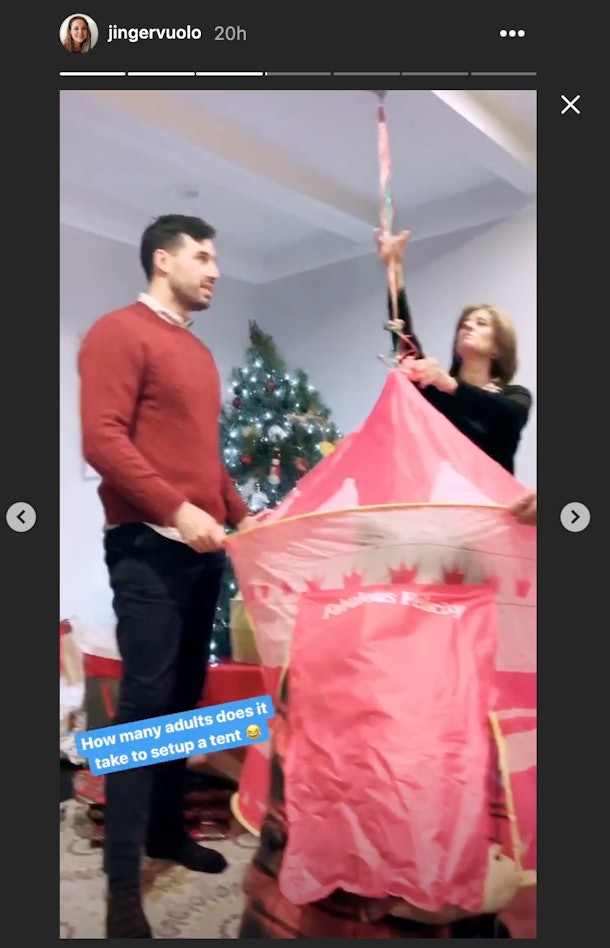 In the photo, Jinger's husband can be seen trying to set up a tent with the words, "Princess Felicity" printed on it. Jinger cleverly captioned the photo, "How many adults does it take to set up a tent?"
Sometimes it's the journey, not the destination! And, with toddlers, that's almost always the case.
Felicity, Jinger, and Jeremy had a Merry Christmas.
In addition to the pictures Jinger shared on her Instagram story, she also shared a cute photo of the fam in matching flannel in front of the Christmas tree.
Gift giving for toddlers can be a challenge, but Jinger and Jeremy really seemed to overcome those woes this Christmas. We all know the feeling!
Andrew is an Assistant Editor for Mamas Uncut with over ten years of experience as a writer in the creative, marketing, and blogging spaces. After studying Film and Art History, he developed a passion for telling stories in a variety of mediums. Obsessively making lists, reporting celebrity news, and diving into emerging pop cultural topics are a few of his interests.
About Mamas Uncut
Mamas Uncut is THE online place for moms. We cover the latest about motherhood, parenting, and entertainment as well – all with a mom-focused twist. So if you're looking for parenting advice from real parents, we have plenty of it, all for moms from moms, and also experts. Because, at the end of the day, our mission is focused solely on empowering moms and moms-to-be with the knowledge and answers they're looking for in one safe space.