Stars of Here Comes Honey Boo Boo and Mama June: From Not to Hot, Mama June (AKA June Shannon) and her boyfriend Geno Doak left a bloodstained and trashed hotel room behind after an apparent fight last month. Pictures obtained by TMZ show the South-Atlanta hotel room destroyed and in disarray.
This is yet another instance of violence that seems to follow the couple. Cops were called to the scene, but no charges have been reported.
YOU MIGHT ALSO LIKE: Honey Boo Boo Takes Action to Keep Mama June and Geno Doak Away From Her Money
Photos obtained by TMZ show a broken lamp, a destroyed TV, a shattered mirror with a bloody handprint, and more.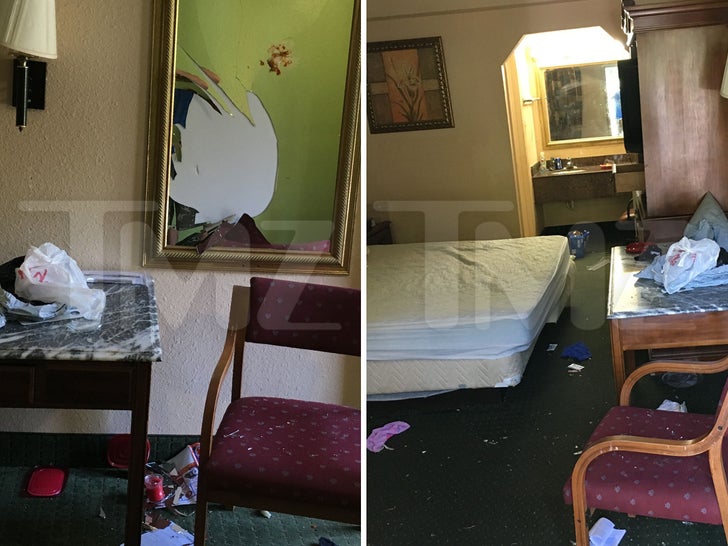 According to TMZ, June and Geno have been hopping from one hotel to the next near Atlanta. The pictured hotel is a FairBridge Inn & Suites where the couple had a fiery argument and caused over $1,000 in damage.
Sources told TMZ that the police were called for a disturbance. The police say no charges were filed. Shortly after, the couple vacated the room leaving behind a mess for the hotel's staff to deal with.
This is the latest dramatic development in a downward spiral for Mama June.
June has struggled with addiction over the past couple of years and members of her family attribute the substance abuse to her boyfriend Geno. In March of this year, her family staged an intervention.
Her family begged her to leave Geno and seek treatment at a rehab facility. June agreed to go to rehab but left just twelve hours after arriving.
Mama June and Geno Doak were arrested in Alabama with illegal drugs.
According to reporting from WSFA 12 News, June and Geno were both arrested on felony drug charges after police were called following a domestic dispute between the couple. Crack cocaine was found at the scene. June was released on bond.
For the following month, the couple remained in Alabama.
In May, June's daughter, Honey Boo Boo reveals she no longer lives with her mom.
In an episode of Mama June: From Not to Hot, Honey Boo Boo revealed that she no longer felt safe in her mom's care and that she'd gone to live with her sister Pumpkin.
Pumpkin becomes Honey Boo Boo's legal guardian.
With Honey Boo Boo safe from harm and a failed intervention behind her, Mama June and Geno show no signs of getting their act together.
2019 was a rocky year for the couple and we hope that 2020 sees them in better health.
About Mamas Uncut
Mamas Uncut is the place for moms online. We cover the latest news around motherhood and parenting, plus entertainment news as well – all with a mom-focused twist. Looking for parenting advice? We have plenty of it, all for moms, from moms. Our mission is focused solely on empowering moms and moms-to-be with the knowledge and answers they're looking for. We don't stop there though, we have expert advice on a range of topics, and all of our categories get updated multiple times a day, so if there's one website for moms you need to bookmark, it's Mamas Uncut. We cover it all, from the latest and trendiest baby names, in the US and all over the world, to advice for moms in the workplace, or mom to mom advice on balancing it all. Looking for an answer to a specific question you've have? Head over to our new answers section, where you can ask questions on a nearly endless amount of topics, and you'll get answers fast – really fast. Mamas Uncut is more than just the place for moms, it's the community of moms – all here to help, make friends, and more. Not sure where to start? Take a look at one of our key topic areas like Pregnancy or Relationships – if you're looking for advice on a specific topic, there's a pretty good chance that we've already written on it (a few times), or that it's within our answers section. If you don't have time to read the site every day, we also have a newsletter that you can control how often you want to receive – that way we send all of the must-see content for moms directly to your inbox – it's that easy. So go ahead and take a look around, ask a question, or just keep reading, we're glad you're here.