When it comes to parenting, it's almost guaranteed that at some point you're going to need to get creative in order to get anything on your to-do list done. And one mom is going viral for just how creative she and her husband got.
According to a Twitter post, a mom from Japan said any time she left the room, her child would scream and cry for her to come back. So the child's father came up with an idea that would trick their son into thinking his mom was around even though she wasn't.
YOU MAY ALSO LIKE: Mom Shares Target Tip That Will Help Moms With Growing Kids Who Are Rough on Their Clothing Save Money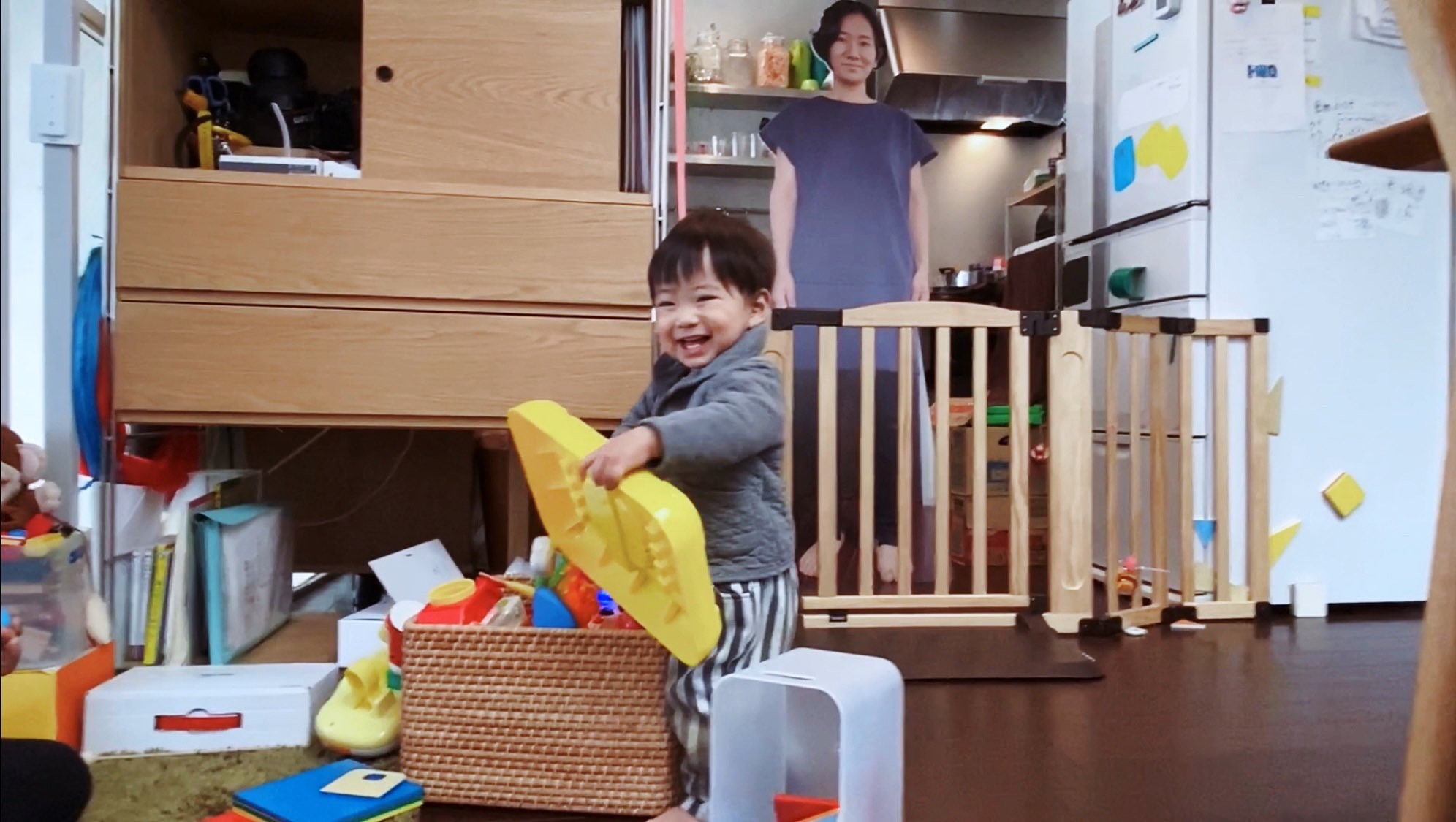 The translated tweet said, "As a countermeasure, I experimented with what would happen if I set up a 'life-sized panel mother.' As a result, it is not noticed for about 20 minutes. This may sometimes help," the dad concluded.
The dad literally found a place where he could make two life-sized cutouts of his wife, one of her stand and one of her kneeling, that he could put in a room with their son so that he thinks she never left.
The Cardboard Cutout of the Mom Actually Seemed to Work
And they even shared a video that's been viewed over 2.2 million times, showing their smiley little boy checking for his mom, seeing the cardboard cut out, and not knowing the difference. Take a look:
Obviously, the parents would never use the cardboard cutouts as a substitute for actual supervision, but even when the boy's father was in the room, he still wanted his mom when she left.
RELATED: Exhausted Parents Everywhere Rejoice! Here's a Viral Baby Carrier Hack You'll Love
The dad also admitted that it's important to keep the cutouts out of reach of the child you are trying to fool.
In the end, the two cardboard cutouts proved to buy the mom at least a little bit of time while she attempts to get other things done. Hey, you got to do what you got to do.
Sara Vallone has been a writer and editor for the last four and a half years. A graduate of Ohio University, she enjoys celebrity news, sports, and articles that enhance people's lives.
About Mamas Uncut
Mamas Uncut is the place for moms online. We cover the latest news around motherhood and parenting, plus entertainment news as well – all with a mom-focused twist. Looking for parenting advice? We have plenty of it, all for moms, from moms. Our mission is focused solely on empowering moms and moms-to-be with the knowledge and answers they're looking for. We don't stop there though, we have expert advice on a range of topics, and all of our categories get updated multiple times a day, so if there's one website for moms you need to bookmark, it's Mamas Uncut. We cover it all, from the latest and trendiest baby names, in the US and all over the world, to advice for moms in the workplace, or mom to mom advice on balancing it all. Looking for an answer to a specific question you've have? Head over to our new answers section, where you can ask questions on a nearly endless amount of topics, and you'll get answers fast – really fast. Mamas Uncut is more than just the place for moms, it's the community of moms – all here to help, make friends, and more. Not sure where to start? Take a look at one of our key topic areas like Pregnancy or Relationships – if you're looking for advice on a specific topic, there's a pretty good chance that we've already written on it (a few times), or that it's within our answers section. If you don't have time to read the site every day, we also have a newsletter that you can control how often you want to receive – that way we send all of the must-see content for moms directly to your inbox – it's that easy. So go ahead and take a look around, ask a question, or just keep reading, we're glad you're here.