A race to get a woman in labor to the emergency room turned into a nightmare for one Georgia family. Krystal Jones was rushing her pregnant daughter, Crystan Graham, and a 1-year-old to Gwinnett Medical Center when the crash occurred.
Police arrived at the scene of the crash and were shocked to find a newborn baby among the wreckage. Graham had given birth during the crash and could not locate her baby in the dark.
Crystan Graham was in labor in the early hours of April 13 as her mother raced her to the hospital.
Krystal Jones was rushing her adult daughter to the hospital before dawn on April 13. CNN reports that the morning was very dark and the roads were wet. The conditions lead to the vehicle, a Chevy Tahoe, hydroplaning across a roadway in Lilburn, Georgia.
The car skidded across the road until it collided with a power pole and then slammed into a brick wall. The impact was so great that police bodycam footage shows the windows of the SUV had been blown out.
Officers Daniel Bride, Cepeda Huff, and Sgt. Matt Madden of the Lilburn Police Department responded.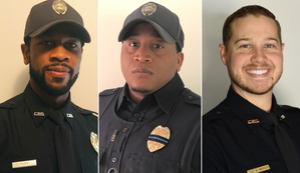 Officer Daniel Bride "just happened to be driving by the scene seconds before the accident happened."
Shortly after Bride arrived at the scene, Sgt. Matthew Madden and Cepeda Huff followed.
Shaky bodycam footage from Bride shows the chaotic scene. Bride can be heard asking, "Where was the baby at?"
"We don't know!" Jones responds. "I was just trying to get to the hospital."
Bride continued to search the vehicle as the other two officers arrived.
Bride asks Jones again about the baby's location. A visibly upset Jones does her best to collect her thoughts.
"In her womb!" she exclaimed. "She was giving birth!"
YOU MIGHT ALSO LIKE: Brave 8-Year-Old Girl Walks Miles By Herself After Car Crash to Find Help For Dying Mom
Using flashlights to search in the dark, the officers combed the car and the surrounding area.
"We thought the baby might have gone out the window because there was so much debris in the back," Bride explained to Fox 5. "Our concern was whether the baby got tossed into the back seat or got tossed through the window."
"With the Georgia red clay and a newborn baby, I was thinking it was blending in with the mud," Huff explained.
Finally, Huff found the baby under the backseat where Graham had gone into labor.
"There is like a small little drop-off under the seat," Huff said. "And that's where the baby laid right into a little pocket. And that's where I found her."
"We got the baby!" Bride says to Graham on the video. "Looks to be fine. She's breathing and moving just fine."
"Thank you, Jesus!" Jones says. "She's alive!"
Huff rushed the newborn to medical first responders at the scene.
The entire family was taken to the hospital, but the newborn was transferred to Gwinnett Medical Center neonatal intensive care unit. The baby, named Cea Anderson is still recovering but is expected to make a full one. She was born weighing just 3 pounds and 9 ounces.
Cea's mother is out of the hospital and Cea's grandmother calls the officers that helped her family "angels."
"It's a great way to end a shift and it's just about being in the right place and the right time," Bride explained.
Cea Anderson is one lucky baby! We're so happy she's making a full recovery and that no one in the family was seriously injured. The police officers involved in the rescue truly are heroes. We imagine Crystan Graham will be telling the story of her daughter's birth for year to come.
Andrew is a Chicago-based writer who enjoys finding the best of the internet, obsessively making lists, and cooking for friends. After studying Film and Art History, he developed a deep love for both topics. Celebrity news, pop culture, and stories that bring people together are his passions.
About Mamas Uncut
Mamas Uncut is the place for moms online. We cover the latest news around motherhood and parenting, plus entertainment news as well – all with a mom-focused twist. Looking for parenting advice? We have plenty of it, all for moms, from moms. Our mission is focused solely on empowering moms and moms-to-be with the knowledge and answers they're looking for. We don't stop there though, we have expert advice on a range of topics, and all of our categories get updated multiple times a day, so if there's one website for moms you need to bookmark, it's Mamas Uncut. We cover it all, from the latest and trendiest baby names, in the US and all over the world, to advice for moms in the workplace, or mom to mom advice on balancing it all. Looking for an answer to a specific question you've have? Head over to our new answers section, where you can ask questions on a nearly endless amount of topics, and you'll get answers fast – really fast. Mamas Uncut is more than just the place for moms, it's the community of moms – all here to help, make friends, and more. Not sure where to start? Take a look at one of our key topic areas like Pregnancy or Relationships – if you're looking for advice on a specific topic, there's a pretty good chance that we've already written on it (a few times), or that it's within our answers section. If you don't have time to read the site every day, we also have a newsletter that you can control how often you want to receive – that way we send all of the must-see content for moms directly to your inbox – it's that easy. So go ahead and take a look around, ask a question, or just keep reading, we're glad you're here.