When it comes to moving into a new apartment or home, whether it be your first or your third, there is always something you need to buy. However, it is most often that after putting down a deposit and paying your first month's rent, money is the last thing you want to spend.
So as someone who is moving into a new apartment in October, I wanted to share some of the places and deals I found while prepping for my move. Being that this move is happening roughly five years after moving into my very first apartment, I needed to purchase some new furniture, stuff that could fill this new space a little better, while donating my older stuff.
RELATED: 7 Genius Amazon Kitchen Gadgets Under $20 That Will Change Your Life
On my list of things to get was a new couch, a new entertainment stand, new bedside tables, a dresser, a new dining room table, new dishes, new silverware, and new bath towels.
The Couch
If you haven't heard of Wayfair before, it's a pretty amazing place to find quality furniture, much of it, at half the price than other furniture stores. This is where I found my new L couch that I love.
For less than $600, I found this couch that fits four people comfortably and also turns into a bed that sleeps two comfortably! Not to mention it is super cute and goes with everything.
The Dresser
For less than $250, I discovered this six drawer, solid wood, dresser, also on Wayfair. I also have a good size mirror that I believe will go perfectly with it, thus saving me even more money so that I didn't have to find a vanity-style dresser, which typically costs more. The color of wood, I also believe, will go with almost everything.
The Bedside Tables
Now, this was one of the best finds I've found on Wayfair to date! One thing I've learned with Wayfair is that if you catch it at the right time, they have some pretty incredible flash sales going on at any given time. I didn't just get one bedside table but two of them for under $100! I'm also a fan of mixing and matching so when it came to my bedroom outfit I didn't want all of it to be a set. And in my personal opinion, I believe the wood of the dresser will go well with these and give the room a bit of dimension.
The Dining Room Table
This was something I desperately didn't want to spend a lot of money on. I couldn't really tell you why, but because this is my first apartment that had a true dining room space, I need something to fill it. I search high and low for something that would break the bank and wanted something a bit more modern as well that could seat at least four people. I'm also a huge fan of round tables, so when I stumbled upon this on Wayfair's website for under $250, I jumped at it.
The Entertainment Center
Okay, that's all for Wayfair, but now onto another trusty companion, Amazon. I know, I know, but when you're on a budget, Amazon can provide you with so many options at so many prices and much of it is really good quality! My current coffee table, which will be traveling with me to my new apartment is from Amazon and I love it. Entertainment centers can get VERY pricey! So when I found this really cool wooden TV stand, that was giving me all of the 70s vibes, for under $70, I couldn't click the checkout button fast enough.
In total, I got all of this furniture for $1,211!
The Kitchen
I love to host, so when it came to the plates, silverware, and glasses, I just needed more of them. So because I only bought a few of each item when I got my first apartment five years ago, I had to replace a lot of my kitchen because I couldn't find anything that would match well enough. But thanks to Amazon and Crate&Barrel (surprising, I know) was able to restock my kitchen utensils for less than $200.
Plates
Dishwasher safe, deep cereal bowls, large size dinner plate, I loved these as soon as I found them! Not to mention for just $33, you got four big plates, four small plates, and four bowls! I got two sets in order to have enough to host dinner parties for my friends!
Silverware
Okay, so I have to admit, over the last five years, my dishwashers have been eating my silverware! Seriously, I think I lose forks and spoons as often as I lose socks in the dryer! So buying news silverware was a must! This set of 40 from Amazon was perfect and sleek! And although I only have 8 place settings, I bought two sets of silverware, because like I said, they tend to go missing.
Drinkware
It's been real, Amazon but now we are on to Crate&Barrel. I don't know about anyone else, but I always had this idea in my head that the home goods store was notoriously expensive, but when it came to picking out new glasses and coffee mugs, they were the cheapest by far!
I was able to snag, eight really cool clear coffee cups:
The awesome thing about these drinking glasses is that they come with leads and can be used as tupperware containers for leftovers as well!
Towels
Last but not least, I needed all new towels. Much like my coffee mugs, they were all missed matched. And to quote my mother, "You're not in college any more." I don't really know what that means, but she convinced me to buy all new towels for my bathroom. And wow towels can be expensive, but here's a trick, Kohls. Kohls constantly has deals going on and discounts and so much more!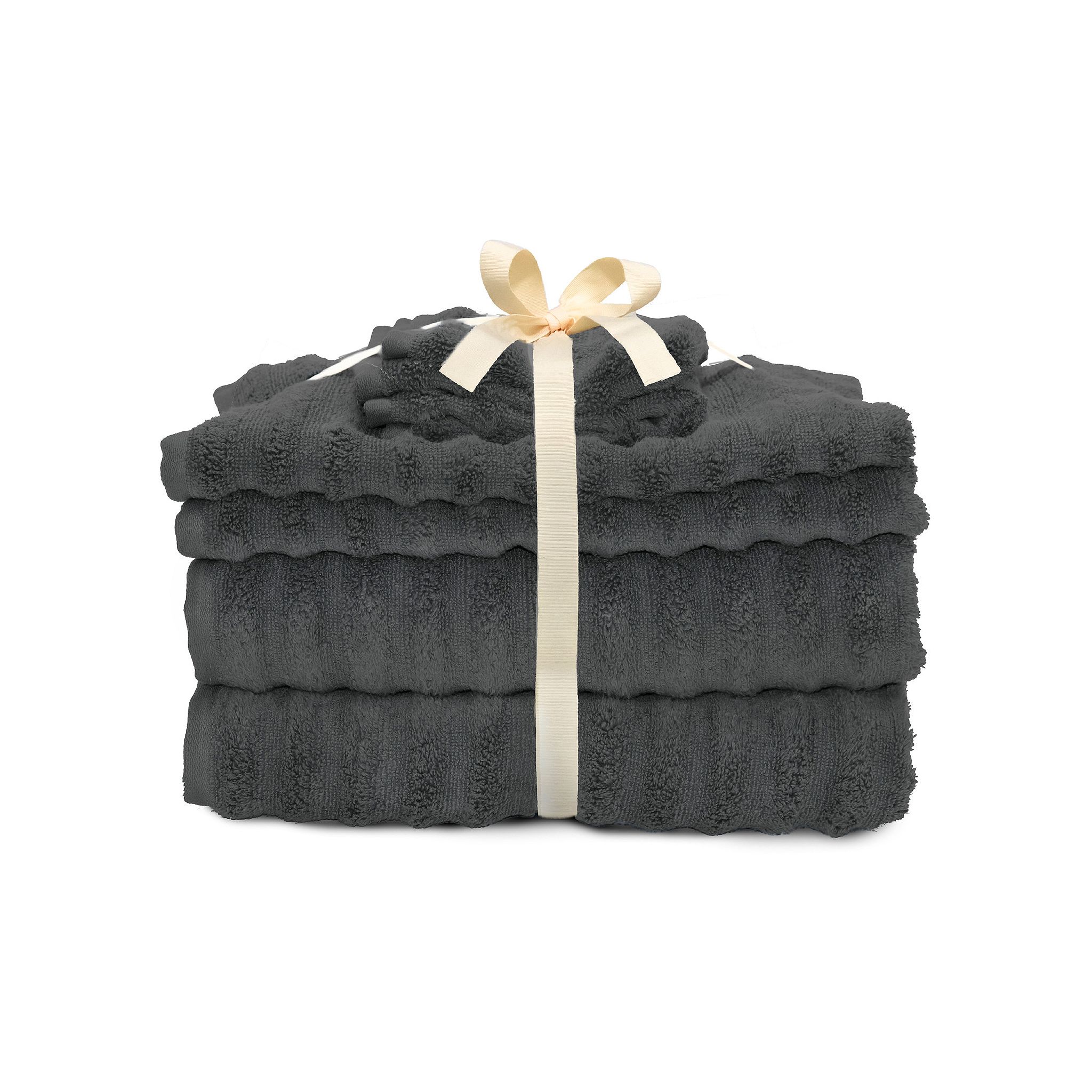 I ended up getting 8 bath towels, 8 hand towels, and 8 wash clothes for just $101. Now I can use all my old towels for kitchen and cleaning rags!
RELATED: 11 Things Amazon Offers When Looking for That Perfect Baby Shower Gift
Where are some of the places you like to go to to find good deals on big ticket items?
Sara Vallone has been a writer and editor for the last four and a half years. A graduate of Ohio University, she enjoys celebrity news, sports, and articles that enhance people's lives.
About Mamas Uncut
Mamas Uncut is THE online place for moms. We cover the latest about motherhood, parenting, and entertainment as well – all with a mom-focused twist. So if you're looking for parenting advice from real parents, we have plenty of it, all for moms from moms, and also experts. Because, at the end of the day, our mission is focused solely on empowering moms and moms-to-be with the knowledge and answers they're looking for in one safe space.
-->