Donna and Jasmine Francis-Smith welcomed their first child into the world on September 30. And the two moms have groundbreaking technology and a procedure called "Shared Motherhood" to thank for their newest bundle of joy.
As CafeMom reports, the new in-vitro fertilization technology is called AneVivo at London Women's Clinic. The moms made the decision to sign up for the "Shared Motherhood" procedure and are now the first same-sex couple to become parents as a result.
RELATED: Beyoncé Opens up About How Miscarriage and Becoming a Mother Changed How She Measured Success, Calling Motherhood Her Greatest Role
The couple named their baby boy Otis.
Groundbreaking Procedure Called 'Shared Motherhood' Helps Same-Sex Couple Become Parents
As PR Newswire reports, the procedure "allows one partner to provide the eggs, the biological mother, and the other one to carry the embryo to term, the gestational mother. In this context, AneVivo brings a very special added value allowing both partners to be involved in the nourishing and developing of the embryo during its very early stages of development."
Jasmine said, "Shared Motherhood" has allowed her and her wife to feel like equals in the birthing process. She said the procedure has helped her and Donna become emotionally closer.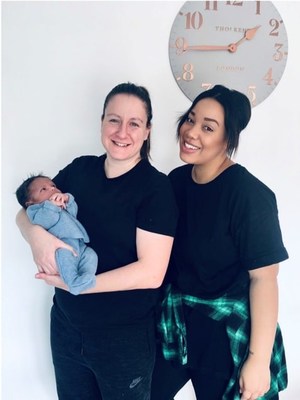 "We are a true family. If we had to go through the process again there is nothing we would change."
Jasmine went on to say, "We highly recommend the Anecova procedure to other families wanting children as the whole process was an amazing experience and we got everything we wanted from it and so much more, and we think Anecova can help many more families in the future."
As PR Newswire reports, the AneVivo technology at London Women's clinic is offered to heterosexual couples, same-sex couples, and single women.
Donna told The Telegraph that the attention they have been receiving since the news of their son's birth went viral has been "overwhelming." In their particular case, Donna is Otis' biological mother and Jasmine is his gestational mother.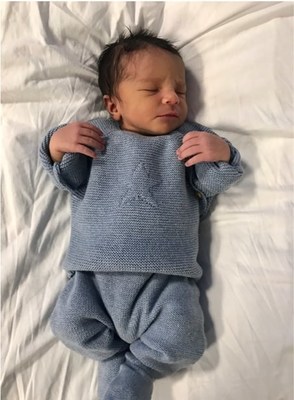 RELATED: Actress Alexa PenaVega Gets Real About Motherhood: 'This is When You Just Pray To Jesus'
"It's my egg, and then they did the egg collection from me and then put it back into my body for 18 hours before being put into Jasmine's body, and she became pregnant."
And when asked how Otis is doing, Donna told the Telegraph that "he's really good. He's just chilling out. He's a really good boy."
"Jasmine said he's going to be an astronaut, but he can be whatever he wants to be. We'll always support him in whatever he wants to do." Amazing.
Sara Vallone has been a writer and editor for the last four and a half years. A graduate of Ohio University, she enjoys celebrity news, sports, and articles that enhance people's lives.
About Mamas Uncut
Mamas Uncut is the place for moms online. We cover the latest news around motherhood and parenting, plus entertainment news as well – all with a mom-focused twist. Looking for parenting advice? We have plenty of it, all for moms, from moms. Our mission is focused solely on empowering moms and moms-to-be with the knowledge and answers they're looking for. We don't stop there though, we have expert advice on a range of topics, and all of our categories get updated multiple times a day, so if there's one website for moms you need to bookmark, it's Mamas Uncut. We cover it all, from the latest and trendiest baby names, in the US and all over the world, to advice for moms in the workplace, or mom to mom advice on balancing it all. Looking for an answer to a specific question you've have? Head over to our new answers section, where you can ask questions on a nearly endless amount of topics, and you'll get answers fast – really fast. Mamas Uncut is more than just the place for moms, it's the community of moms – all here to help, make friends, and more. Not sure where to start? Take a look at one of our key topic areas like Pregnancy or Relationships – if you're looking for advice on a specific topic, there's a pretty good chance that we've already written on it (a few times), or that it's within our answers section. If you don't have time to read the site every day, we also have a newsletter that you can control how often you want to receive – that way we send all of the must-see content for moms directly to your inbox – it's that easy. So go ahead and take a look around, ask a question, or just keep reading, we're glad you're here.