In just a few months, fans collectively waiting for the hit TV show, Yellowstone, to return will be rewarded with a new season. The juicy cowboy/rancher drama has droves of devoted fans and we know that many will be excited to learn that the show has teamed with Target on a line of cute T-shirts and merch that are Dutton-approved.
The show announced the collaboration on Instagram just days ago and you better order your Yellowstone gear before it is all gone! Get your Yellowstone goods before the premiere of season 5 of the show that returns on November 13th.
Mamas Uncut is a participant in multiple affiliate programs, including Skimlinks, ShareASale, Commission Junction, and the Amazon Services LLC Associates Program, an affiliate advertising program designed to provide a means for sites to earn advertising fees by advertising and linking to Amazon.com. Mamas Uncut may earn a percentage of revenue generated from purchases made via the links in this post.
$19.88 at the time of publication.
If you are buying a gift or want a roomier shirt to lounge in, here is the men's Yellowstone T-shirt that the show announced with. It comes in black, grey, or blue all with the golden Dutton Ranch imprint. This is the shirt they are most proud of but they have others and they have women's sizing as well. Keep reading for more.
$12.99 at the time of publication.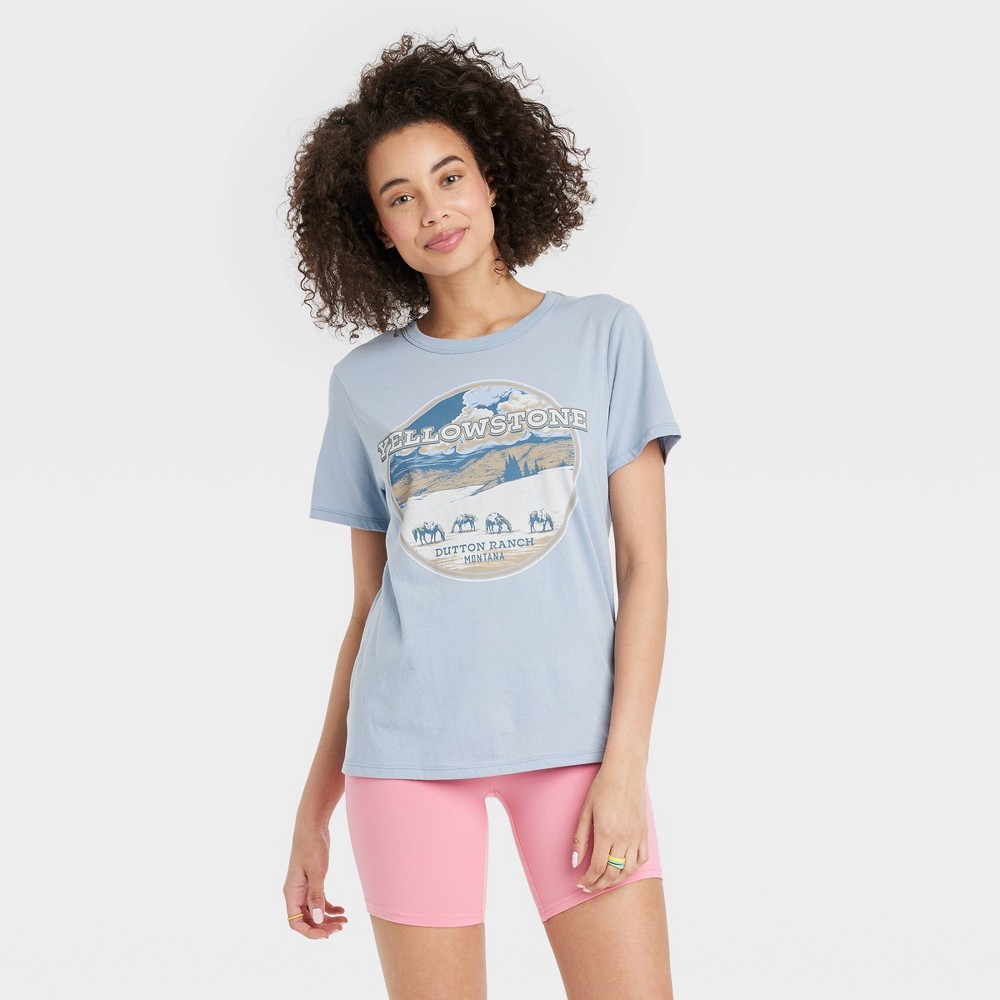 Here's one of the offerings for women. We find a sort of retro Western scene here depicting the beautiful natural scenery you often see in the show. We love the light blue color!
$19.88 at the time of publication.
Here's another women's shirt. As you can see it comes in black and says "protect the family" in addition to the Yellowstone logo all in gold. If that adage rings true for you, this is the one for you!
$19.88 at the time of publication.
Here's a really cool shirt for the bull-lovers out there. It has a number of excellent sayings that should take you back to the best parts of the show. "The whole world is a test" and "So wild, so angry," the shirt says over a red bull. Isn't this a fun one?
$19.88 at the time of publication.
Where are the Kevin Costner fans at? This John Dutton-inspired shirt finds our faithful rancher on a horse. It's handsome in blue and grey with a vintage wash to make it look even more authentic.
$19.88 at the time of publication.
Are you looking for something a bit more understated? This one is imprinted with a pocket-sized imprint over the right part of the chest. You will look like an official member of the ranch with this shirt!
$19.88 at the time of publication.
"You can't reason with evil," this shirt says above a haunting image of a crow. Those blues and reds look fantastic together on this athletic, grey tee.
$19.88 at the time of publication.
We are big fans of the black and gold T-shirts and this one happens to be our favorite. However, this one also comes in grey with a blue logo. We love the horse imagery and the overall shape and style of the imprint. Who else is watching the show just for the horses?
$19.88 at the time of publication.
How cool is this retro poster-style shirt? We think it's as pretty as a picture. In addition to the cool cowboy scene, you also get the "ride for the brand" motto imprinted as well. It could be hard to tell that the shirt itself is navy blue.
$19.88 at the time of publication.
Here we find another navy shirt but this time we are really treated to the mountains around Dutton Ranch. You can't go wrong with the color combination of yellow, red, and blue!
YOU MIGHT ALSO LIKE: Yellowstone Star Charged For Collecting Disability While Working
$19.88 at the time of publication.
Last but not least we have this shirt with a cow skull paired with some flowers. it has a couple of the Dutton family mottos on it, including "protect the family" and "for the brand." If you love all of the drama of Yellowstone, this is a shirt to match.
There you go! We shared with you eleven very fun Yellowstone T-shirts now available at Target. Get them while supplies last and have them delivered in time for the premiere of season 5!
About Mamas Uncut
Mamas Uncut is THE online place for moms. We cover the latest about motherhood, parenting, and entertainment as well – all with a mom-focused twist. So if you're looking for parenting advice from real parents, we have plenty of it, all for moms from moms, and also experts. Because, at the end of the day, our mission is focused solely on empowering moms and moms-to-be with the knowledge and answers they're looking for in one safe space.
-->