During these strange and unprecedented times, many expectant mothers, like actress Emma Roberts, are having to go about their pregnancy milestones a little differently. As Mamas Uncut previously reported, Roberts is currently expecting her first child with her boyfriend, Garrett Hedlund.
On August 31, the private couple revealed they are expecting a child together. Along with pictures of the soon-to-be parents sitting next to each other as Roberts cradled her stomach, the actress wrote, "Me…and my two favorite guys," indicating that they are expecting a baby boy.
RELATED: Emma Roberts Is Pregnant With Boyfriend Garrett Hedlund's Baby
Now, the actress has revealed that even though she is remaining socially distant, her family "and pod" were able to throw her a quarantine-style baby shower in celebration of her first child. Along with a couple of photos showing her dressed in a gorgeous floral maxidress, Roberts wrote, "so grateful to my family and pod for making my pregnancy feel so celebrated during such wild times. I love you guys… and thank you to Tory Burch & Eric Buterbaugh for the magical garden."
A magical garden which came fully equipped with a vagina-shaped flower arrangement.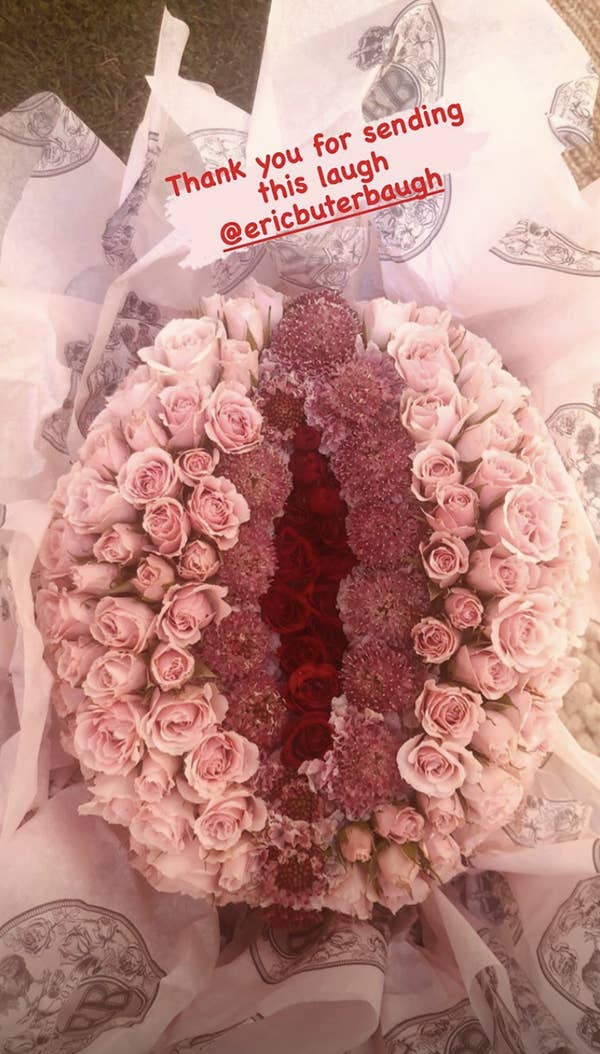 And "baby boy" cookies!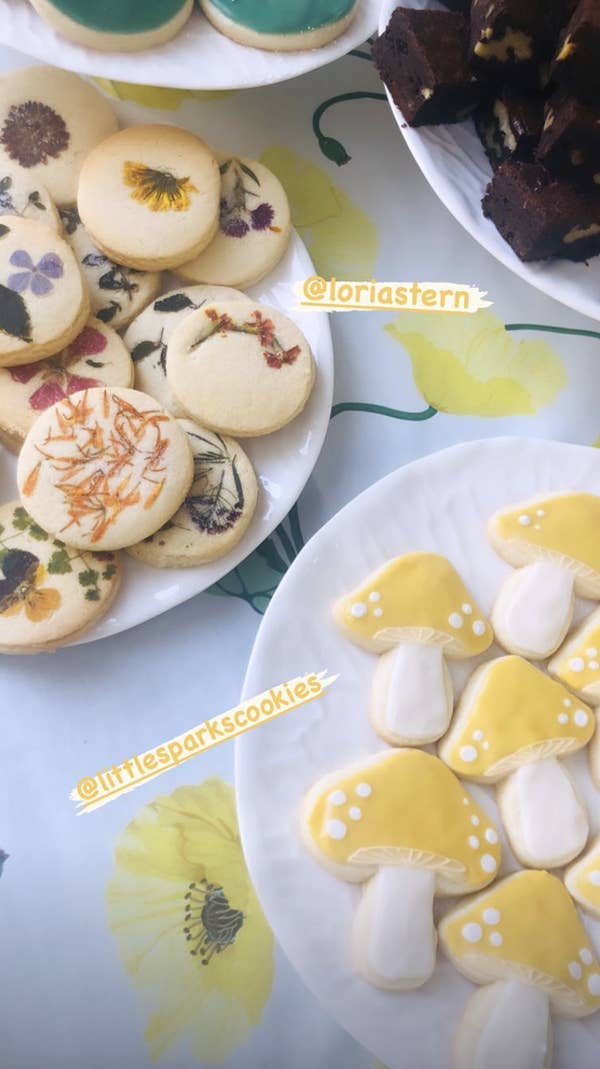 Following her special day, an insider with information from the special day told People that her pod includes a lot of big names like Kristen Stewart, Camila Morrone, and of course, the father of her child, Garrett Hedlund. "Emma's baby shower was a garden celebration so everyone could social distance," the insider explained to People.
"Emma wore a dress that showed off her cute baby bump and a matching mask. She was very excited. She received many wrapped gifts for their baby boy."
Another source revealed how excited Hedlund is to become a dad. "He loves that he has something so incredibly exciting to look forward to," People reported.
"Emma is doing well. She is getting the nursery ready," the source continued. "She enjoyed celebrating with friends at her baby shower. She and Garrett are both very grateful for all the love."
RELATED: Billie Lourd Gives Birth To First Child, Honors Late Mother Carrie Fisher By Passing On Name
It's unclear exactly when Roberts and Hedlund's baby is due to enter the world, but it seems like that day can't come soon enough for the soon-to-be parents. Congratulations.
Sara Vallone has been a writer and editor for the last four and a half years. A graduate of Ohio University, she enjoys celebrity news, sports, and articles that enhance people's lives.
About Mamas Uncut
Mamas Uncut is the place for moms online. We cover the latest news around motherhood and parenting, plus entertainment news as well – all with a mom-focused twist. Looking for parenting advice? We have plenty of it, all for moms, from moms. Our mission is focused solely on empowering moms and moms-to-be with the knowledge and answers they're looking for. We don't stop there though, we have expert advice on a range of topics, and all of our categories get updated multiple times a day, so if there's one website for moms you need to bookmark, it's Mamas Uncut. We cover it all, from the latest and trendiest baby names, in the US and all over the world, to advice for moms in the workplace, or mom to mom advice on balancing it all. Looking for an answer to a specific question you've have? Head over to our new answers section, where you can ask questions on a nearly endless amount of topics, and you'll get answers fast – really fast. Mamas Uncut is more than just the place for moms, it's the community of moms – all here to help, make friends, and more. Not sure where to start? Take a look at one of our key topic areas like Pregnancy or Relationships – if you're looking for advice on a specific topic, there's a pretty good chance that we've already written on it (a few times), or that it's within our answers section. If you don't have time to read the site every day, we also have a newsletter that you can control how often you want to receive – that way we send all of the must-see content for moms directly to your inbox – it's that easy. So go ahead and take a look around, ask a question, or just keep reading, we're glad you're here.