The stars of Little People Big World, Tori Roloff and Zach Roloff, had their second child a couple of weeks ago on November 19th. The beautiful baby girl named Lilah Ray is the couple's first daughter, and we just can't get enough of her cute face.
Tori shared some photos to her Instagram after Lilah's birth, but fans wanted to see more. Finally, Tori has uploaded more photos of the family of four and they all look so cute together.
YOU MIGHT ALSO LIKE: 26 Photos of Tori Roloff and Her Crew That Prove They've Created the Perfect Family
The family went on a hunt for a Christmas tree.
The Roloffs had a time getting their Christmas tree this year. There was even a bit of drama!
"BARELY survived getting our Christmas tree today. Did not dress for snow or rain. Mom couldn't walk well in the snow. Jackson wanted nothing to do with Santa Claus and almost gave himself a concussion trying to get away. Really the only one who held it together was lilah girl (and dad). Big parenting lesson today… But we did it. Got our tree. Now to sleep the rest of the day away. Lol," Tori captioned the post.
You can always count on Lilah!
But, we can guess that she needed a nap after all the excitement. She is already two weeks old!
Tori also shared an image to her Instagram stories.
We want to be as chill as Lilah!
This is one zen little baby!
Lilah Ray, Tori, and Zach look great together!
Apparently, the Roloffs are raising her to be a Seahawks fan.
But we won't hold that against her.
It seems like Lilah Ray was born yesterday.
Lilah Ray was born on Novemeber19th at 6:52 pm. She weighed 8 pounds 9 ounces and was 18 and 1/2 inches long! What a cutie!
They'll cherish that memory forever.
Little Lilah is just so precious!
Clearly, Lilah is settling in just fine.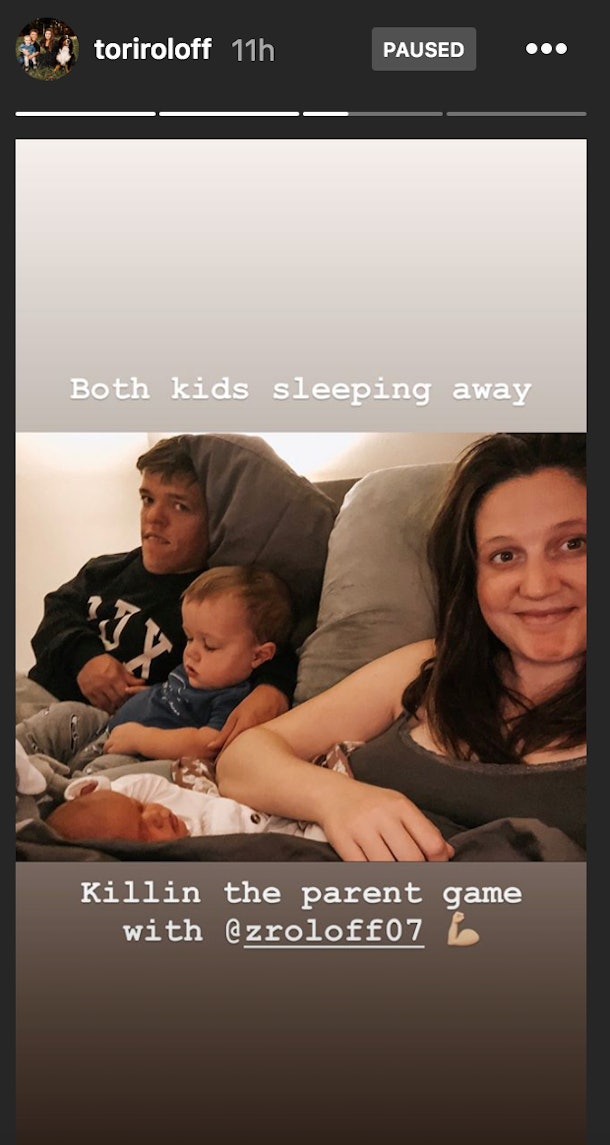 Can Lilah teach us her relaxation routine?
Even the family dog is in awe!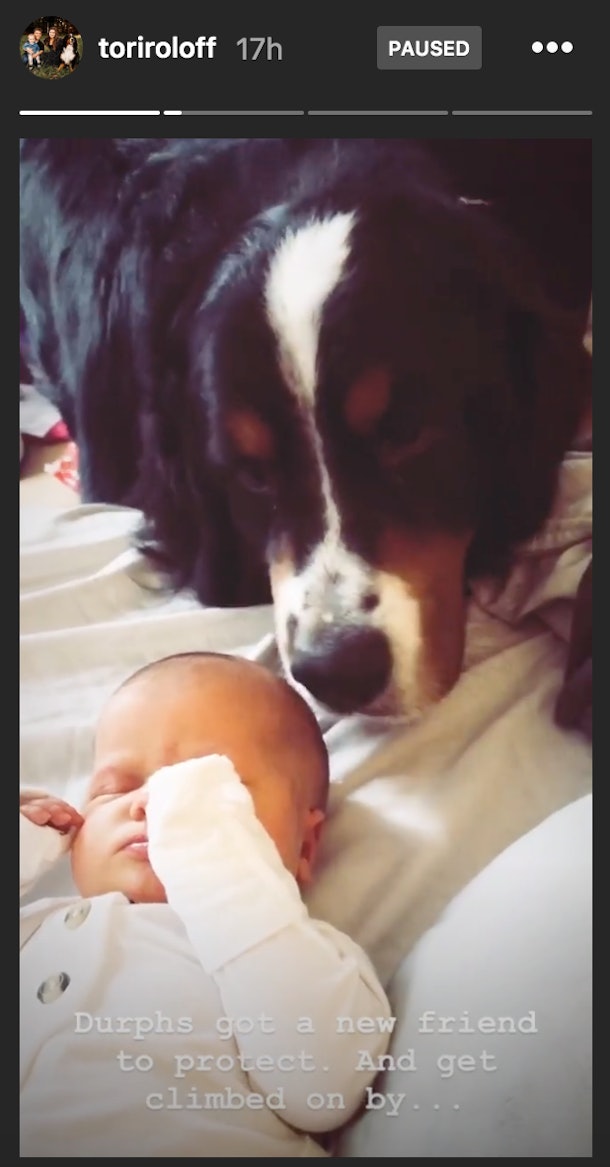 Like, the dog truly loves her.
Tori says their dog, named Murphy would, "Stay next to this kid all day if he could."
What did we do to deserve dogs?
How does one baby get so cute?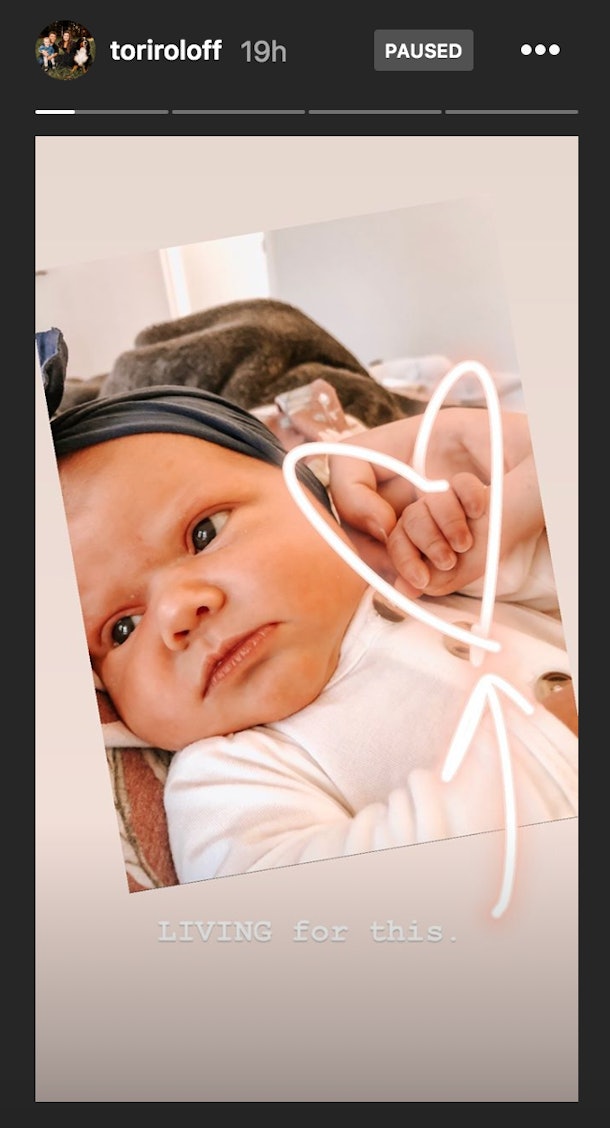 The Roloff's must be over the moon for Lilah.
Tori just can't get enough of her baby's hands.
How precious!
Jackson is clearly in love with his little sister.
Tori shared this tender moment of Jackson and Lilah in an Instagram story.
We're all living in Lilah's world.
Lilah met her uncle a couple of weeks ago and he had this to say to her, "Welcome to the family, Lilah Ray Roloff. I'm so excited to get to know you."
She puts a smile on her granddad's face.
Matt Roloff, Lilah's grandfather, looks stunned!
He rushed to his newest grandbaby after being out of town for a week.
Matt Roloff captioned the picture, "What does grandpa do the second he gets home from 6 days away?? … Races over to hold the newest grand baby Lilah .. of course!"
We get it, Matt!
Grandma is glowing with Lilah!
Grandma says "My grand-daughter has my heart and is loved so much already."
In fact, the whole family can't seem to get enough of this little one.
Take a look at the Roloff crew celebrating Thanksgiving. You'll notice Lilah taking it easy, as always.
Tori Roloff posted a photo in front of the fireplace with four stockings!
Aw! How great is it that the Roloffs get to spend the holidays with their newborn. She says in the caption, "So much to be thankful for this year! Happy Thanksgiving from our family to yours!!"
Such a sweet message. In the photo, you can see Jackson smiling, a happy big brother.
We can't wait for more Holiday photos of the Roloffs and especially Jackson and Lilah.
If last year's Christmas photos are any indication of what we can expect, we really look forward to 2019's pics. We're so thrilled for this growing family and can't wait to see more!
About Mamas Uncut
Mamas Uncut is the place for moms online. We cover the latest news around motherhood and parenting, plus entertainment news as well – all with a mom-focused twist. Looking for parenting advice? We have plenty of it, all for moms, from moms. Our mission is focused solely on empowering moms and moms-to-be with the knowledge and answers they're looking for. We don't stop there though, we have expert advice on a range of topics, and all of our categories get updated multiple times a day, so if there's one website for moms you need to bookmark, it's Mamas Uncut. We cover it all, from the latest and trendiest baby names, in the US and all over the world, to advice for moms in the workplace, or mom to mom advice on balancing it all. Looking for an answer to a specific question you've have? Head over to our new answers section, where you can ask questions on a nearly endless amount of topics, and you'll get answers fast – really fast. Mamas Uncut is more than just the place for moms, it's the community of moms – all here to help, make friends, and more. Not sure where to start? Take a look at one of our key topic areas like Pregnancy or Relationships – if you're looking for advice on a specific topic, there's a pretty good chance that we've already written on it (a few times), or that it's within our answers section. If you don't have time to read the site every day, we also have a newsletter that you can control how often you want to receive – that way we send all of the must-see content for moms directly to your inbox – it's that easy. So go ahead and take a look around, ask a question, or just keep reading, we're glad you're here.