The stars of Little People Big World, Tori Roloff and Zach Roloff, had their second child on November 19th. The beautiful baby girl named Lilah Ray is the couple's first daughter.
Tori took to her Instagram to share the good news and some photos of the newborn. If you need a dose of cuteness today, be sure to look at these adorable photos.
YOU MIGHT ALSO LIKE: Jackson Roloff Is a Big Brother! Tori and Zach Roloff Welcome Second Child Into the World, a Baby Girl With a Beautiful Name
Say hello to Tori Roloff's new baby, Lilah Ray.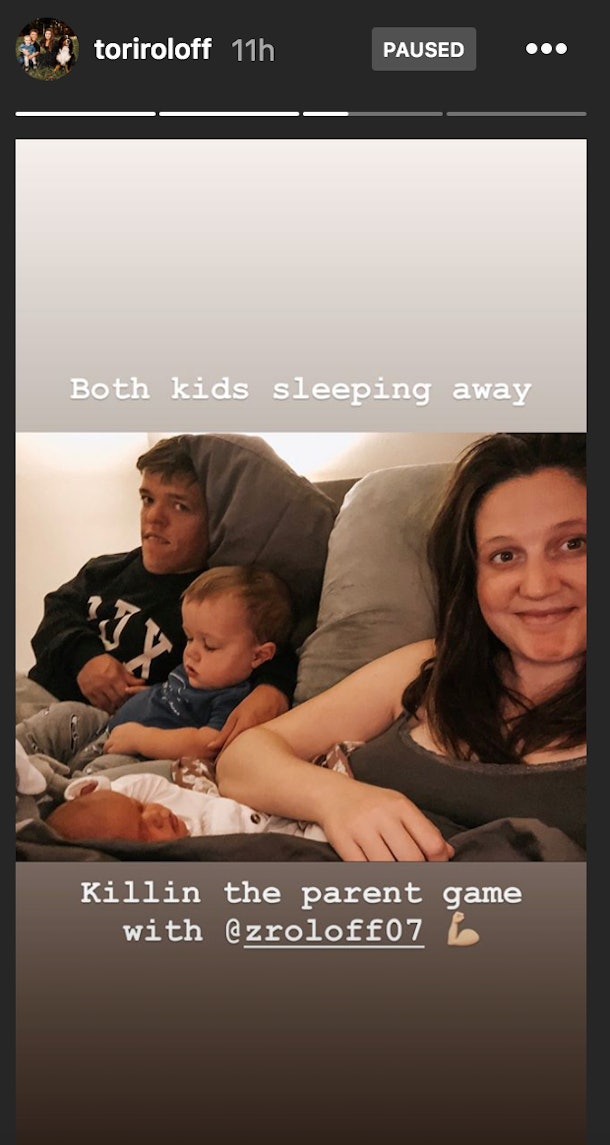 In an Instagram story, Tori shared a picture of both her children sleeping soundly. She wrote, "Both kids sleeping away." How tender!
She shared a couple of more photos of pure motherhood bliss.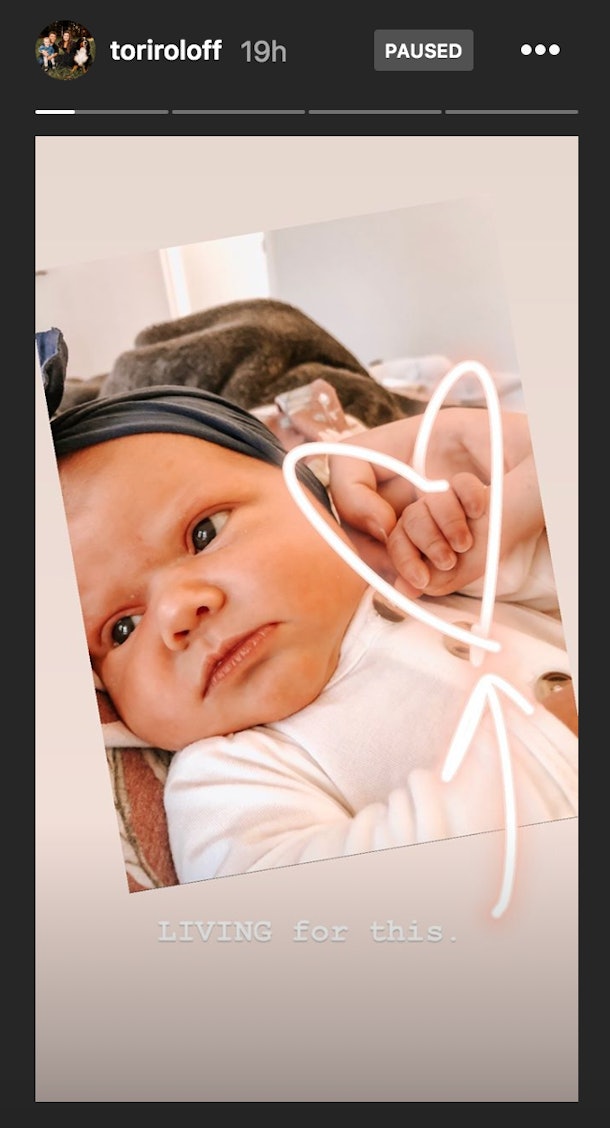 Look at that sweet little hand. We're living for this too!
Even the family dog is in awe of Lilah.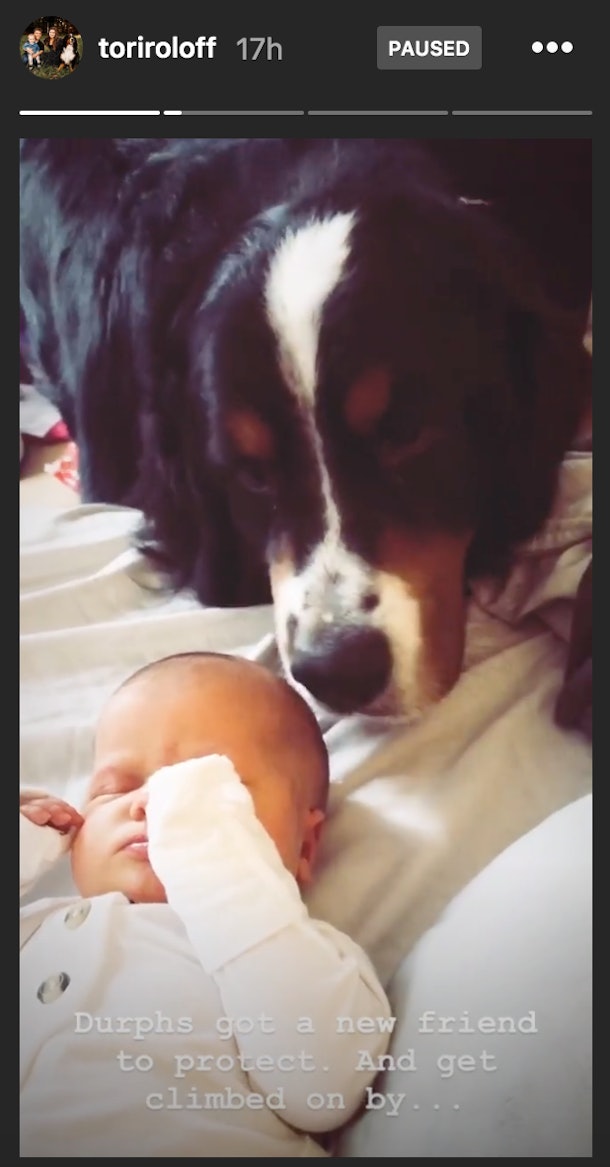 Just precious! We can't wait to see Lilah playing with the pup.
Lilah Ray was born Tuesday, November 19th.
Tori posted the first photos of her baby a few days ago. She captioned this one, "Lilah Ray Roloff, Born on November 19th at 6:52pm, 8 pounds 9 ounces,18 1/2 inches long. Welcome to the family sweet baby girl!"
Welcome to the world, Lilah Ray!
We got another Lilah update after her very first bath.
Look at Lilah all bundled up! Tori captioned the photo with the hilarious anecdote, "Lilah girl got her first bath today! She liked it so much she blew out her pants to earn herself a second!"
Also, how cute is that the dog, Murphy watches over her?
Dad, Zach Roloff shared his excitement on Instagram too.
What a beautiful family.
We know Tori must be relieved.
Back in August, Tori shared that pregnancy is a struggle for her. She captioned this stunning photo, "I really didn't want to take maternity photos. Im not one of those women who loves being pregnant. In fact there's not a lot of times I do love being pregnant. Don't get me wrong. I thank God for this amazing gift every single day and I know how blessed I am but it definitely hasn't made me feel my best. However, I am so freaking thankful I was talked into maternity photos by friends and family."
In another post about her pregnancy struggles, Tori shared more.
Tori says in the post, "This pregnancy hasn't made me feel my best…"
We can relate. Being pregnant is different for everyone. We're elated that she's got something to show for it!
Tori's oldest, Jackson must be excited too.
Jackson Kyle, who is two-years-old, must be thrilled to be a big brother.
Look how similar Jackson looked to Lilah when he was born.
Can you believe it's been two years since Jackson was born? We can't believe how much he and Lilah resemble one another.
Uncle, Jeremy Roloff seemed really excited.
Jeremy posted a photo of himself holding his new niece and captioned it, "Welcome to the family, Lilah Ray Roloff. I'm so excited to get to know you."
Grandfather, Matt Roloff looks over-the-moon.
In the photo, Matt holds his granddaughter. He captioned the picture, "Another absolutely precious grand baby."
We couldn't agree more.
Grandmother, Amy Roloff is glowing.
Amy Roloff congratulated Zach and Tori and had this to say about her new granddaughter, "My grand-daughter has my heart and is loved ???? so much already. She's beautiful and precious and a blessing to our family. I'm so looking forward to watching baby girl grow up, see Jackson and Lilah hang out and spending grandma time with them."
Tori is going to be a supermom.
You might not know that Tori was a kindergarten teacher before she was on TV. She's got tons of experience with kids and we bet she's going to raise little Lilah to be a smart, independent woman.
Baby Lilah will be in good company.
In addition to Jackson, Lilah will have a cousin to hang out with.
In fact, she'll have plenty of friends and family to play with.
Look at all these babies!
If you think we're exaggerating, think again.
Like Tori says in the post, "It truly takes a village." Tori and Zach certainly have it!
She's here just in time for the holidays.
Do you think Lilah will get to enjoy some Roloff Farm's pumpkin baby food? Pumpkin purée?
The Roloff's will have a very special Christmas this year.
Lilah's first Christmas will be in less than a month. We bet Tori and Zach are thrilled about that.
We couldn't be happier for Tori and Zach.
We can't wait for more Lilah Ray updates from the Roloffs. And, don't you worry! We're on the baby-Roloff beat and we'll let you know when we get new news.
Chicago based writer who enjoys finding the best of the internet. Cheese and crackers are a mood.