On November 2, a pregnant woman was working a shift at a CVS Pharmacy located near Southern Methodist University when an armed robber opened fire in the store.
According to The Dallas Morning News, it was around 6:30 a.m. on November 2, when authorities were called to the CVS. They found the expectant mother, later identified as 29-year-old Orelia Hollins, to have been shot twice.
RELATED: Florida Mom Who Created GoFundMe for Her 10-Month-Old Son's Funeral Now Accused of Murdering Baby
Hollins was eight months pregnant at the time of the robbery. She was immediately transported to Texas Health Presbyterian Hospital nearby. According to the assistant chief of the University Park police, Jim Savage, Hollins gave birth to her son prematurely that same day.
The Dallas Morning News reports that following Hollins' unexpected birth, both mom and baby were in critical but stable condition. The other employee working alongside Hollins was not injured in the robbery.
Now, as Fox 26 reports, it was days after Hollins gave birth to her son that she was able to hold him for the first time. Police told Fox 26, that after visiting Hollins to see how she and her son are progressing, they've learned that Hollins is now walking with some assistance and is now able to visit and cuddle with her son for a certain amount of time a day.
Authorities also reported that her baby boy has started to move his arms and legs. However, the mother-son duo still has a long road to recovery. Both Hollins and her son are still in the hospital.
The man responsible for the robbery and shooting is still at-large. A still image from surveillance footage of the robbery shows the suspect "wearing a dark coat and dark pants as he flees the scene," Fox 26 reports.
The picture also appears to show the man wearing a ski mask. He is also said to be 6-feet-tall and has a raspy voice.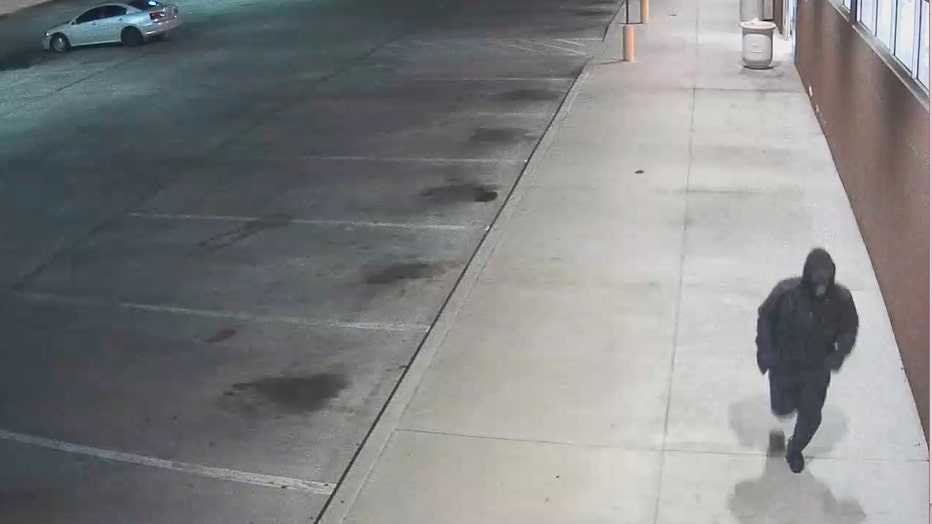 RELATED: Woman Arrested for Sending Vile and Threatening Letters to a 2-Year-Old Little Girl with Genetic Skin Disorder
CVS is offering a $25,000 reward for information that will help authorities find their suspect. Anyone with information regarding this specific case is asked to send their tips to www.solveacrime.com or call the University Park police department.
According to the GoFundMe set up to help Hollins with expenses, she is also the mom to two other children.
Sara Vallone has been a writer and editor for the last four and a half years. A graduate of Ohio University, she enjoys celebrity news, sports, and articles that enhance people's lives.
About Mamas Uncut
Mamas Uncut is the place for moms online. We cover the latest news around motherhood and parenting, plus entertainment news as well – all with a mom-focused twist. Looking for parenting advice? We have plenty of it, all for moms, from moms. Our mission is focused solely on empowering moms and moms-to-be with the knowledge and answers they're looking for. We don't stop there though, we have expert advice on a range of topics, and all of our categories get updated multiple times a day, so if there's one website for moms you need to bookmark, it's Mamas Uncut. We cover it all, from the latest and trendiest baby names, in the US and all over the world, to advice for moms in the workplace, or mom to mom advice on balancing it all. Looking for an answer to a specific question you've have? Head over to our new answers section, where you can ask questions on a nearly endless amount of topics, and you'll get answers fast – really fast. Mamas Uncut is more than just the place for moms, it's the community of moms – all here to help, make friends, and more. Not sure where to start? Take a look at one of our key topic areas like Pregnancy or Relationships – if you're looking for advice on a specific topic, there's a pretty good chance that we've already written on it (a few times), or that it's within our answers section. If you don't have time to read the site every day, we also have a newsletter that you can control how often you want to receive – that way we send all of the must-see content for moms directly to your inbox – it's that easy. So go ahead and take a look around, ask a question, or just keep reading, we're glad you're here.