Guru and author, Hilaria Baldwin has been sending fans dispatches from quarantine that include updates about her pregnancy with her fifth child. Hilaria and husband, Alec Baldwin and their brood have been hunkered down in the Hamptons for weeks.
Fortunately, she's been posting pictures of herself and her kids and sharing her excitement over her current pregnancy which she announced on April 6. The happy news follows a couple of miscarriages, which Hilaria has been very vocal about. The Baldwins are cautiously optimistic and their joy is undeniable.
Hilaria shared the baby news recently in a video that included a Doppler ultrasound.
The yoga instructor posted a video to announce her pregnancy. In the video, you can hear her baby's heartbeat. The Baldwins have four children: Romeo Alejandro David, nearly 2, Leonardo  Ángel Charles, 3, Rafael Thomas, 4, and Carmen, 6.
She recently spoke about her desire to give her oldest child and only daughter, Carmen a sister. Her last miscarriage was a girl and she had been very excited about the prospect of having another daughter.
"After the last experience, I do really dream about giving her a sister at some point," Hilaria told People, referring to her miscarriage. "And who knows? Maybe this is going to be the last baby I have and maybe there will be another; I don't really know at this point. I don't really care to plan too much anymore. A healthy baby is such a blessing."
In a couple of new photos, Hilaria has officially debuted her baby bump!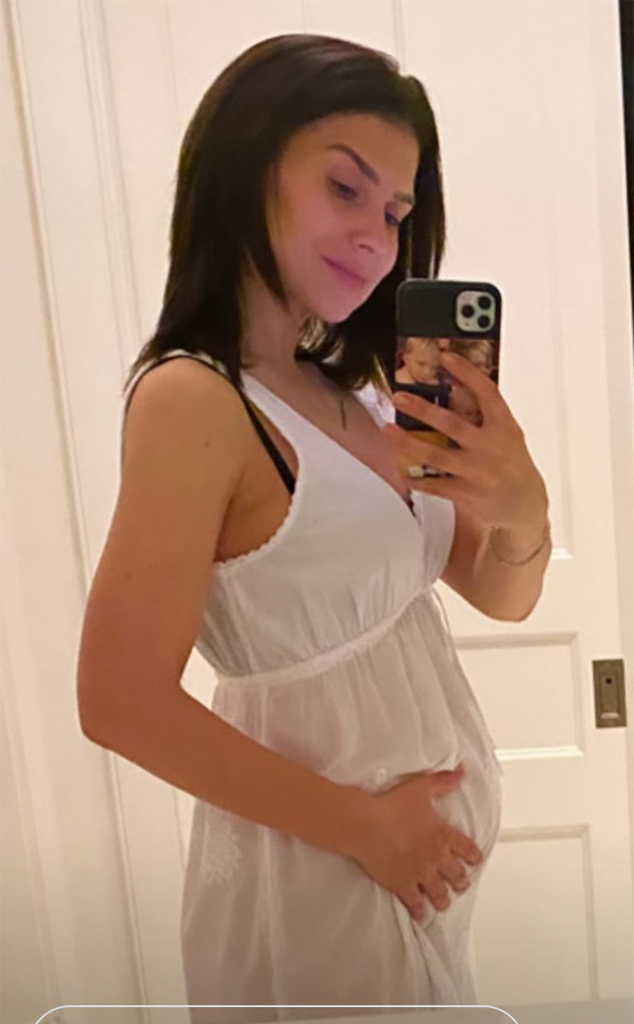 Hilaria shared an image of herself sporting a baby bump in an Instagram story. The radiant mother looks gorgeous and we're so excited! She spoke to E! News about her pregnancy and how it's going, "it's past the point of where I lost the last one. The marker was last week."
"We both are not people who would have expected to have so many kids," she explained. "If we didn't think we were doing well as parents or couldn't afford to have these kids, we wouldn't have them. We are very conscious of our family without overwhelming the system."
YOU MIGHT ALSO LIKE: Katy Perry Celebrates Easter by Showing Off Baby Bump in a Fabulous Bunny Onesie
In an Easter photo, Hilaria also proudly shows off her baby bump.
The Baldwins spent Easter together and even tried to dress up for the occasion. She explains in the caption of the photo that the outfits were hastily chosen and that her own dress "isn't closing in the back."
She also told E! News that it's been challenging but that her family is helping her through these times.
"There can definitely be overwhelming times, but at the same time, going through something like now and realizing we have built-in play dates all the time," she said. "During a time that is so lonely, our kids can go in the playroom together and play with each other. The fact that we are doing it together, I am so grateful for. Whatever your life story, there will be pros and cons and positive and negatives and I feel like I am very grateful."
We're absolutely thrilled that Hilaria is sporting a baby bump again.
While we are living through strange times, it's always inspiring to think of the kids who will be born after this, after we've learned from our mistakes and found solutions to some of the world's most pressing issues. Cue Whitney Houston's "Greatest Love of All!"
Hilaria has been steadfastly hopeful over the past and has weathered some difficult times. We are so happy for her and look forward to any new updates, baby bump or otherwise, that she provides.
Andrew is a Chicago-based writer who enjoys finding the best of the internet, obsessively making lists, and cooking for friends. After studying Film and Art History, he developed a deep love for both topics. Celebrity news, pop culture, and stories that bring people together are his passions.
About Mamas Uncut
Mamas Uncut is the place for moms online. We cover the latest news around motherhood and parenting, plus entertainment news as well – all with a mom-focused twist. Looking for parenting advice? We have plenty of it, all for moms, from moms. Our mission is focused solely on empowering moms and moms-to-be with the knowledge and answers they're looking for. We don't stop there though, we have expert advice on a range of topics, and all of our categories get updated multiple times a day, so if there's one website for moms you need to bookmark, it's Mamas Uncut. We cover it all, from the latest and trendiest baby names, in the US and all over the world, to advice for moms in the workplace, or mom to mom advice on balancing it all. Looking for an answer to a specific question you've have? Head over to our new answers section, where you can ask questions on a nearly endless amount of topics, and you'll get answers fast – really fast. Mamas Uncut is more than just the place for moms, it's the community of moms – all here to help, make friends, and more. Not sure where to start? Take a look at one of our key topic areas like Pregnancy or Relationships – if you're looking for advice on a specific topic, there's a pretty good chance that we've already written on it (a few times), or that it's within our answers section. If you don't have time to read the site every day, we also have a newsletter that you can control how often you want to receive – that way we send all of the must-see content for moms directly to your inbox – it's that easy. So go ahead and take a look around, ask a question, or just keep reading, we're glad you're here.