How many times have you already watched Hocus Pocus this October? We won't judge! As part of its "31 Nights of Halloween" programming, one network is airing the witchy movie 27 times! That's 27 chances to see Bette Midler, Sarah Jessica Parker, and Kathy Najimy as the Sanderson Sisters practicing their dark witchcraft.
YOU MIGHT ALSO LIKE: Three Sisters Who Dressed Up as the 'Hocus Pocus' Witches Remain the Halloween Costume Champions
We can't get enough of these witches as they terrorize Salem trying to achieve immortality. We plan on watching again and again and again.
The Sanderson Sisters have taken a residency over at Freeform.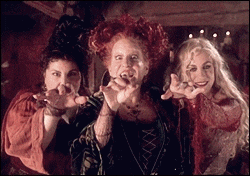 Hocus Pocus is a Halloween classic and it's perfect that Freeform is including it (a lot of it!) in their "31 Nights of Halloween" programming. It will play 27 of the 31 nights this month! For those of you who haven't seen this masterpiece, Hocus Pocus tells the story of a boy who accidentally summons three witches from the dead. The witches feast on the souls of children (believe it or not, this is a Disney movie) to keep themselves alive. They have but one night to become immortal.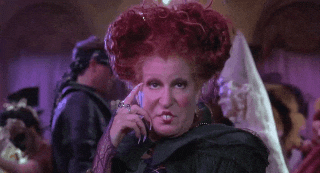 If you've never experienced the delight that is Bette Midler playing an evil witch named Winifred Sanders, have you even lived?
If you like your Halloween movie with a bit of camp, you can watch this movie every night of the week!
The big musical number of the Halloween movie, "I Put a Spell on You" is reason alone to watch this movie. But, who needs an excuse?
This movie has cast a spell on its fans.
Judging from the reaction on Facebook, some people will be watching this flick more than once!
Spooky fun for the whole family!
If you've got little ones, this movie is pretty family-friendly too! So invite the kids to join you!
About Mamas Uncut
Mamas Uncut is the place for moms online. We cover the latest news around motherhood and parenting, plus entertainment news as well – all with a mom-focused twist. Looking for parenting advice? We have plenty of it, all for moms, from moms. Our mission is focused solely on empowering moms and moms-to-be with the knowledge and answers they're looking for. We don't stop there though, we have expert advice on a range of topics, and all of our categories get updated multiple times a day, so if there's one website for moms you need to bookmark, it's Mamas Uncut. We cover it all, from the latest and trendiest baby names, in the US and all over the world, to advice for moms in the workplace, or mom to mom advice on balancing it all. Looking for an answer to a specific question you've have? Head over to our new answers section, where you can ask questions on a nearly endless amount of topics, and you'll get answers fast – really fast. Mamas Uncut is more than just the place for moms, it's the community of moms – all here to help, make friends, and more. Not sure where to start? Take a look at one of our key topic areas like Pregnancy or Relationships – if you're looking for advice on a specific topic, there's a pretty good chance that we've already written on it (a few times), or that it's within our answers section. If you don't have time to read the site every day, we also have a newsletter that you can control how often you want to receive – that way we send all of the must-see content for moms directly to your inbox – it's that easy. So go ahead and take a look around, ask a question, or just keep reading, we're glad you're here.