UPDATE: It's official! A sequel to the beloved Halloween movie, Hocus Pocus, is in the works. The movie will come to Disney's new streaming service, Disney+, which launches this November. There is no word yet on when the Hocus Pocus sequel will be released, or even if the original cast will return, but stay tuned for more information as it becomes available.
Original Article:
We are still obsessed with the Sanderson sisters and after 26 years, we just might get more Hocus Pocus! If you aren't already familiar with the film: Hocus Pocus is a classic, family Halloween movie that first graced screens back in 1993. It stars Bette Midler, Sarah Jessica Parker, and Kathy Najimy as witches hellbent on immortality.
YOU MIGHT ALSO LIKE: Three Sisters Who Dressed Up as the 'Hocus Pocus' Witches Remain the Halloween Costume Champions
The beloved film has a huge cult following. It's spooky, funny, and full of heart. That's why we were thrilled (thrilled!) when we got a tease that it might be coming back for a reboot.
Actress Vinessa Shaw, who played Allison Watts in the original film posted a picture with a message that gave a lot of 'Hocus Pocus' fans hope for a sequel.
In the caption of the Instagram post, she said, "Oh [crystal ball emoji], will there be a #2?…'Tis time!" In addition to the crystal ball and Shaw, other stars from the original movie are pictured.
Members of the cast of Hocus Pocus were gathered as part of Freeform's '31 Nights of Halloween' event that's currently airing on the channel throughout October.
This isn't the first rumor of a remake for this Halloween movie.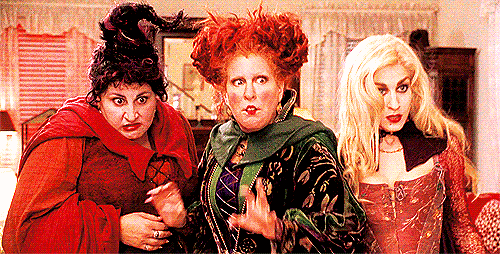 Way back in 2017, we thought a remake was coming to the Disney channel. That news was met with anger after fans learned that none of the original cast would be returning. What would Hocus Pocus be without Bette Midler?
We were glad to see that rumor run proved false.
The internet also gave us a Hocus Pocus 2 promo that made the rounds but turned out to be a bogus Hocus Pocus.
But, it turned out to be a fake promo. We would have killed to see the Sanderson sisters take the A train!
RELATED: Hocus Pocus Is Airing Almost Every Night this October for Halloween
We're going to take Vinessa Shaw's post to heart and hope that a new Hocus Pocus gets conjured up.
While we wait to see if there will be more news about a sequel, we plan on watching Hocus Pocus all 27 times it airs on Freeform this month! Take a look at the schedule above and carve out some much-needed witchy time this Halloween.
Hocus Pocus will air 5 times on Halloween alone. If you've put off watching this charming, Halloween classic, get it in before Hocus Pocus 2 comes for your garter girl!
About Mamas Uncut
Mamas Uncut is THE online place for moms. We cover the latest about motherhood, parenting, and entertainment as well – all with a mom-focused twist. So if you're looking for parenting advice from real parents, we have plenty of it, all for moms from moms, and also experts. Because, at the end of the day, our mission is focused solely on empowering moms and moms-to-be with the knowledge and answers they're looking for in one safe space.
-->